Modern Rock, (AAA Format)
Members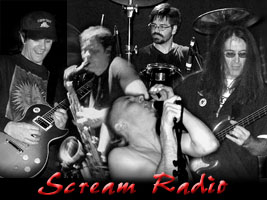 Robert Owen
Vocals
Bruce Brophy
Guitars
Blake Harkins
Guitars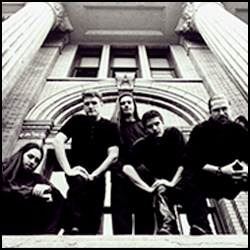 Keys & Sax
Patrick McDanel
Bass
Jeff Eason
Bass
Simon Grant
Drums
History
Once upon a time, Simon was in a band called Zipperneck with Jeff Eason on Bass and Rik Wright on Guitar. The threesome searched far & wide, (for several months), for a singer to front the band. Interviews with hundreds of would-be singers led to only a few actual audition invites; one of which was with Seattle singer Robert Lunte who was accompanied by keyboard & sax man- Joey St. John-Ryan. The resulting jam session went OK, but Robert & Joey weren't quite what the Zipperneckers were looking for, although the bunch took away a healthy professional bond which would later result in Simon's occasional consult to Robert and Joey's new band- Thin Black Line. You with me so far? …OK then.
Soon Zipperneck threw in the towel, but not before recording an interesting piece of instrumental work at Vagrant Records Studios. Jeff went off to join the band Life Like Feel; Rik founded the band Fear of Texas; and Simon joined forces with Crunchbird.
While playing with Crunchbird one day, Simon announced that he was getting too busy with producing and needed to leave the band. This sent Jaime "Crunchbird" out on a crusade to find a new drummer where he turned-up would-be drummer Bob Owen. Jaime invited Bob to a Crunchbird show at Seattle's old Offramp Cafe where Bob was introduced to Simon. After discussing the direction of the band and Bob's interests, Bob confessed to Simon that he'd really rather be a singer. So Simon urged Bob to run with that dream or he'd forever regret that he'd never tried it. After an exchange of phone numbers, Bob was off into the night, (although a little deaf from that Crunchbird set he'd just witnessed). Months later- Simon consulted Bob's new band, (as their lead singer!), Dizzy with Ginger.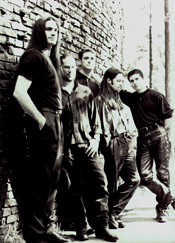 A few years later- Thin Black Line saw the departure of singer Robert Lunte and was in the process of losing drummer Pete Stern. Meanwhile- Dizzy with Ginger began to lose momentum as members were becoming quite busy with their personal & professional lives outside the band. Fate intervened again as Joey St. John-Ryan, (TBL), called Bob Owen, (DwG), and asked him to join Thin Black Line. Bob accepts, and after hearing of Pete's departure from TBL suggests that they call Simon. Simon accepts and the group proceeds with a massive reconstruction and face lift which yielded a new band- Scream Radio!
…But wait- there's more! Scream Radio had built a strong following in the Pacific Northwest for about two years which led to the recording of their album- Scar the Shell, (on the Exhibit-A label), when fateful events would lead to the departure of virtuoso bass player- Pat McDanel. Enter, stage left- (remember Jeff from Zipperneck & Life Like Feel?)… As it turns out, Life Like Feel was on the skids and Simon took advantage of that opportunity to give Jeff a call and invite him in to check out what SR had going on. This was the beginning of a new friendship and a new sound for Scream Radio.
And we're still not at the end of our tale yet! After the birth of his beautiful daughter Kirsten- SR guitarist Bruce Brophy and wife Tory accelerated their career growth by moving back to their roots in the San Francisco bay area where they could accept the help of friends and family with the pricey task of child rearing. In response to this loss, Bob invited friend, (and sometimes employer), Blake Harkins to do his guitar thing with Scream Radio. Alas! another friendship was born and now you have the modern day Scream Radio in all their rocking glory!
From 1998 -to- 2001 Scream Radio performed and recorded big, modern, rock music.
As of late 2001, Scream Radio is now on indefinite hiatus as the players each pursue other musical partnerships.
---
Recordings
I'll Bet You a Dollar I Can Change the World
Scream Radio
Catalog: XA02-002
UPC: N/A, Unreleased
© 2001, Arts Lab, Inc.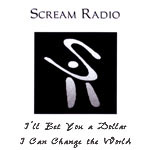 (I'll Bet You a Dollar) Demo '01
Scream Radio
Catalog: XA02-001
UPC: N/A, Demo
© 2001, Arts Lab, Inc.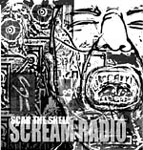 Scar the Shell
Scream Radio
Catalog: XA01-001
UPC: 889211676217
© 2000, Exhibit-A Entertainment
More Info…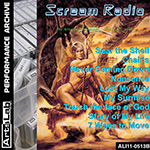 Live at The Breakroom, Seattle
Scream Radio
Catalog: ALI11-0513B
UPC: N/A, Performance Archive
© 2000, Simon Grant Unltd.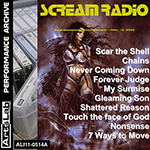 Live at Club Boomerang, San Francisco
Scream Radio
Catalog: ALI11-0514A
UPC: N/A, Performance Archive
© 2000, Simon Grant Unltd.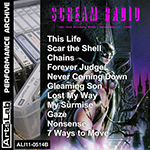 Live at Del Mar Station, Reno
Scream Radio
Catalog: ALI11-0514B
UPC: N/A, Performance Archive
© 1999, Simon Grant Unltd.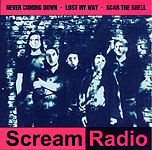 The Dish Network Singles
Scream Radio
Catalog: HSG99-002
UPC: N/A, Limited Edition Release
© 2000, Hipsync Records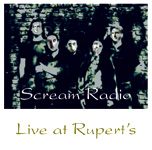 Live at Rupert's, Seattle
Scream Radio
Catalog: SR98-005
UPC: N/A, Performance Archive
© 1998, Simon Grant Unltd.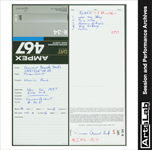 Complete Vagrant Sessions
Scream Radio
Catalog: ALI11-0518CD
UPC: N/A, Session Archive
© 1997, Simon Grant Unltd.
---
Press
Album Reviews: Amazon.com
"On first listening this album just blasts itself into you. It's a tapestry of rhythms and colors that shimmers out of your stereo, and the vocals, my God…the only way I can explain it is like someone grabbing me by the shirt front – not because he's angry, but because what he's saying is so important to him that he doesn't want me to miss a single word. By the end of the third song you know this one's staying in the CD changer for months.
When you listen closely to this album a few more times you'll hear some things you've heard before, it's just been so long that you forgot where you heard them. There are whispers of Bowie, Genesis, Floyd, The Doors, and Jethro Tull, yet the overall sound is so cutting-edge and ready for modern radio that it's more like a playful nudge, an elbow in your ribs… A lot of bands right now could take a lesson from these guys. I love this album!"
Amazon
"I saw this band here in Reno a few months ago, and they blew the headliner (Double Drive) off the stage. Tight, energetic, fresh. For the first song, the whole room was just standing there with their mouths open. This song sounds great! Really new. Really fresh. I like the keyboards. Incredible vocals. Beautiful verses, explosive chorus. Cool breakdown in the middle: slap bass and drum circle, really tribal. Five stars!"
John Dawson, Scream Radio Fan, Reno, NV
"Saw these guys play live last night. It was fantastic. I immediately bought the CD and love it. Lead singer, Bob Owen, sings with great power and passion. He surrounds himself with top notch musicians. I think this would be great movie soundtrack music."
johnnyseattle
---
Indie-Music.com
After listening to Scream Radio's "Scar The Shell," I feel like I've finished hearing the soundtrack to a rock opera – a modern alternative rock/grunge passion play. Vocalist/lyricist Bob Owen cries out from his tortured soul in these songs. The words are gritty, sometimes gory, always painful, but they keep bringing up spiritual images of prayer, faith, judgement, and redemption. These lyrics are reaching for something more beyond the pain.
The music paints the perfect theatrical setting for these emotions. The drumbeats are primitive in songs like "Seven Ways to Move" and "Forever Judge." I especially like how the percussion and keyboards crash together like ocean waves in "Forever Judge." "Nonsense" is musical and emotional chaos that works dramatically, even when it shouldn't (like when Joey St. John-Ryan's smooth sax combines with Bruce Brophy's raging guitar).
Owens' voice is full of heart, passion, and power. "I seem to have lost my way," he cries out at one point, and the music echoes the confusion and fear. He offers up a prayer from his despair in "Deliver Me": "Deliver me, my friend, to the end of my memories, so I can start again." He is a talented and visual lyricist. I like the image in "Gleaming Son": "We differ in no way but one: Your smile decides your fate, mine makes people question if I'm sane."
The extreme emotions get to be a bit too much in some places. In "Never Coming Down," the words that demand attention are competing with the guitar to be heard, turning into sensory overload for the listener. But for the most part, these songs are carefully orchestrated and powerfully presented. I imagine them being led by an orchestra conductor as I listen.
Jennifer Layton, Indie-Music.com
---