Quasi-Musical Noise Art
Members
Bruce Brophy
Guitar
Tannar Brewer
Bass
Simon Grant
Drums
Let Me Explain…
M.O.T. is an electric, melodic improv trio that covers some interesting territory while also steering close to some dangerous whirlpools too, (as in maybe they shouldn't have gone there?!).
I don't have much to say about it except that you'll either love it or hate it. If you have the stamina to listen to a bunch of it- you'll find an endless list of different influences and techniques. If you force me to describe the sound- I'd put it somewhere between Zappa's "Shut Up and Play Your Guitar" …and early Yes/Crimson when they were orchestrating those long musical journeys.
Anyone who is familiar with my improv drumming approach in Disjunkt, or even The Jackhammer Trio, won't recognize it here. I play mostly rock rudiments and pretty strait ahead beat placement and timing.
In short- this is pretty "over the top" stuff. If you accused us of outright musical masturbation- I'd likely not argue.
---
Recordings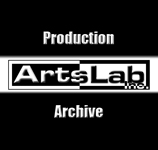 Lurking in the Dark
Margarine of Terror!
Catalog: ALI13-0816A
UPC: N/A, Session Archive
© 2011, Arts Lab, Inc.
More info…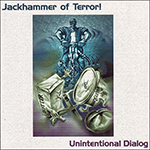 Jackhammer of Terror! / Unintentional Dialog
Margarine of Terror!
Catalog: HSG02-009
UPC: N/A, Session Archive
© 2002, Simon Grant Unltd.
More info…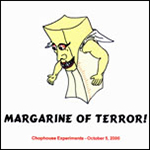 Chophouse, 10/5/00
Margarine of Terror!
Catalog: HSG00-037
UPC: N/A, Session Archive
© 2000, Simon Grant Unltd.
More info…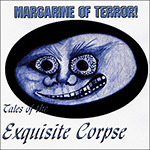 Tales of the Exquisite Corpse
Margarine of Terror!
Catalog: HSG01-023
UPC: N/A, Session Archive
© 1998, Simon Grant Unltd.
More info…