Songwriter, Arranger, Sound Designer, Etc.
Preface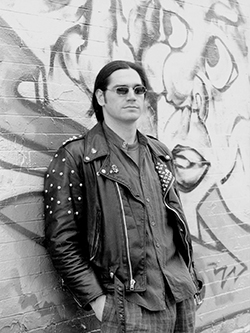 Throughout my career I have always played with music-making tools like drum machines, keyboards, samplers, guitars and any other devices which could be sequenced together to form an electric ensemble that could play my flea circus compositions. As a drummer (and non-perfoming keyboard & guitarist), this has been my primary means of exploring harmonic relationships of ensemble instruments and ultimately my own songwriting sketchpad.
As time has progressed I have been fortunate enough to have grown this skill into a means of getting my own compositions out into the public via indie films, radio spots, and bumper music. This page is designed to be a sampling of some of my works. Many are pretty old and technically raw- but I love showcasing these old bits to show that the sound of the day is just that- a snapshot in time as painted by the tools of that time. Beyond that- what makes a tune stand on it's own is ultimately the arrangement. Whether working on 30 or 60 second radio spots, sync music for TV and/or film, or sound design as a score or just M&E- the arrangement is everything.
---
Assorted Sound Samples
Sound Design Samples, 2005
Simon Grant
Catalog: ALI05-0403A
UPC: N/A (Demo)
© 2003 – 2017, Simon Grant Unltd.
Published by: GS Larkin Group, LLC – BMI
The following are sound design samples featuring SG tracks used in indie short films…
---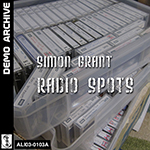 Radio Spots Demo, 2003
Simon Grant
Catalog: ALI03-0103A
UPC: N/A (Demo)
© 2017, Simon Grant Unltd.
Published by: GS Larkin Group, LLC – BMI
The following are tracks from past radio spots and/or background music used in commercials…
---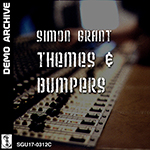 Themes & Bumpers
Simon Grant
Catalog: SGU17-0312C
UPC: N/A (Demo)
© 2017, Simon Grant Unltd.
Published by: GS Larkin Group, LLC – BMI
The following tracks are demos from some of my past video or web bumper music…
---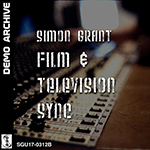 Film & Television
Simon Grant
Catalog: SGU17-0312B
UPC: N/A (Demo)
© 2017, Simon Grant Unltd.
Published by: GS Larkin Group, LLC – BMI
The following tracks are demos from some of my past film & television projects…
---